The solution to discovering
the questions people ask
Get instant insights into what people are searching for and what questions they ask online so you can answer and build trust, authority and your audience
We show you the questions and keywords that your customers and potential site visitors use to search Google and other online resources.
Armed with this knowledge you can plan and build your content safe in the knowledge it will target real queries asked by real people worldwide.
We save you time and money allowing you to get the flywheel of content production moving in the right direction, build your audience faster and generate more revenue.
Why use
KeywordsPeopleUse?
Based on real user keyword data
We trust Google with the questions we wouldn't ever ask even those closest to us! We find and collate this data direct from Google so you can understand and answer the real questions people are asking.
Rank higher in search results
Build content that answers the questions that people really ask, no more guesswork!
Niche research
Find new niches to target and instantly have all the headlines you need to hit to build topical relevance and authority.
Target your content production
Within seconds you will have all the data you need to build a content production plan around any topic, brand or niche. All targeted at the keywords that will drive real traffic numbers.
Save time
The keyword data we produce comes straight from Google based on exact user usage data for individual topic. No more guesswork when searching keywords.
Our

query types

Our People Also Ask Query live crawls Google for your search term and mines these questions.

By live clicking the questions and diving down through the results we map these questions into clusters based on the search intent that Google itself suggests.

We then build you a results tree using these clusters, like in the example.

As well as the questions we also mine:
The answer to the question shown in the SERPS
The URL of the webpage providing the answer
The Title of the same webpage
All this data can be downloaded in csv format.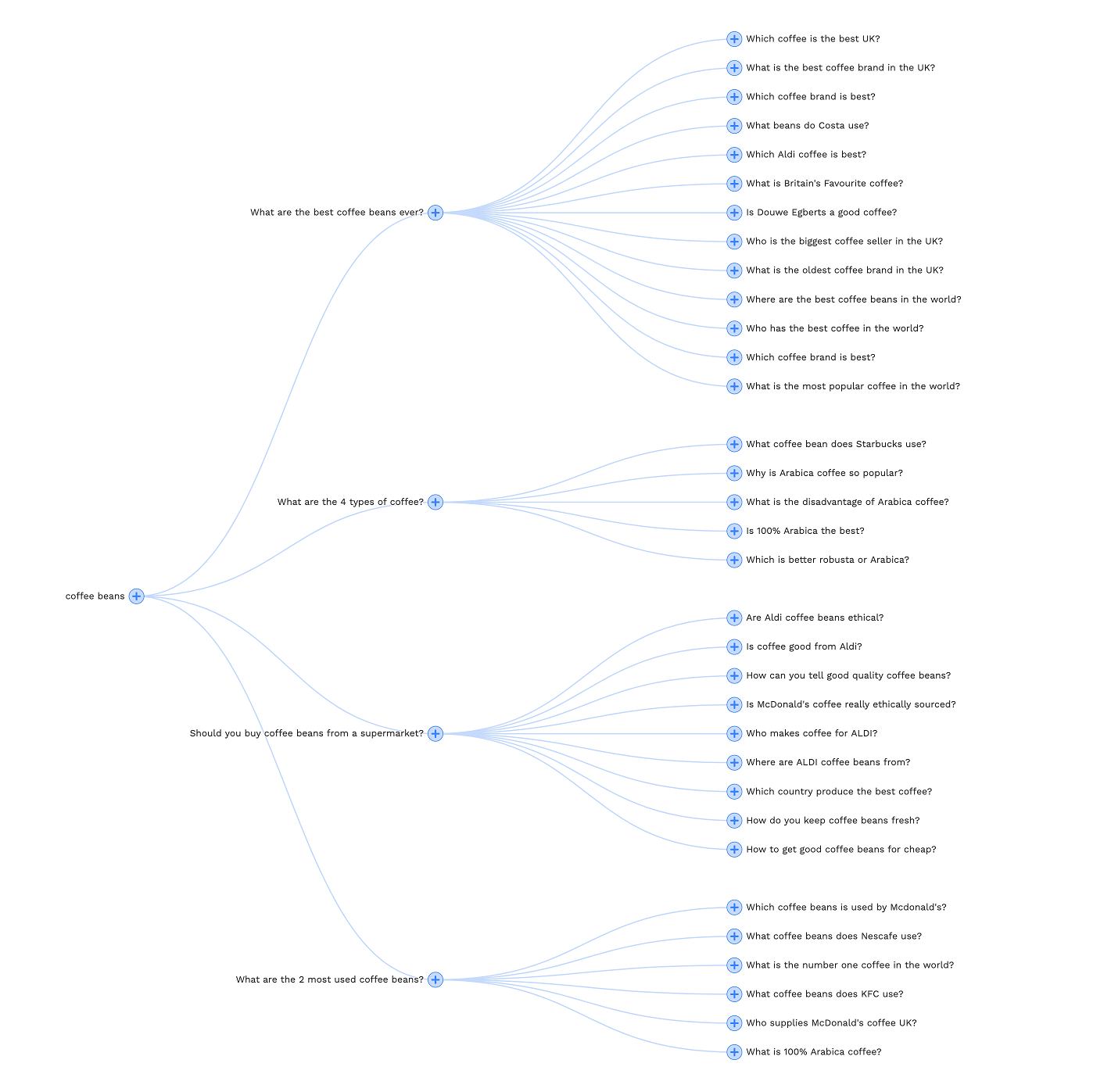 Google Search Auto Complete
As you type a search query into Google it starts to autocomplete the query for you based on popular queries starting with the words and letters you are typing.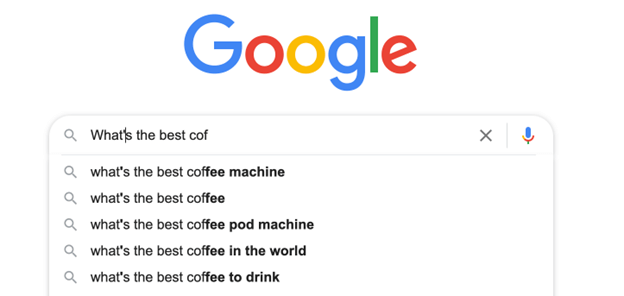 We pull these autocomplete results for your query and add a number of different intent modifiers (like "who", "what", "how" etc) to build a complete overview of the search queries people are using around a keyword or topic.
We show you the results in a rich graphical format so you can easily see the relationships between search terms, as the following diagram shows.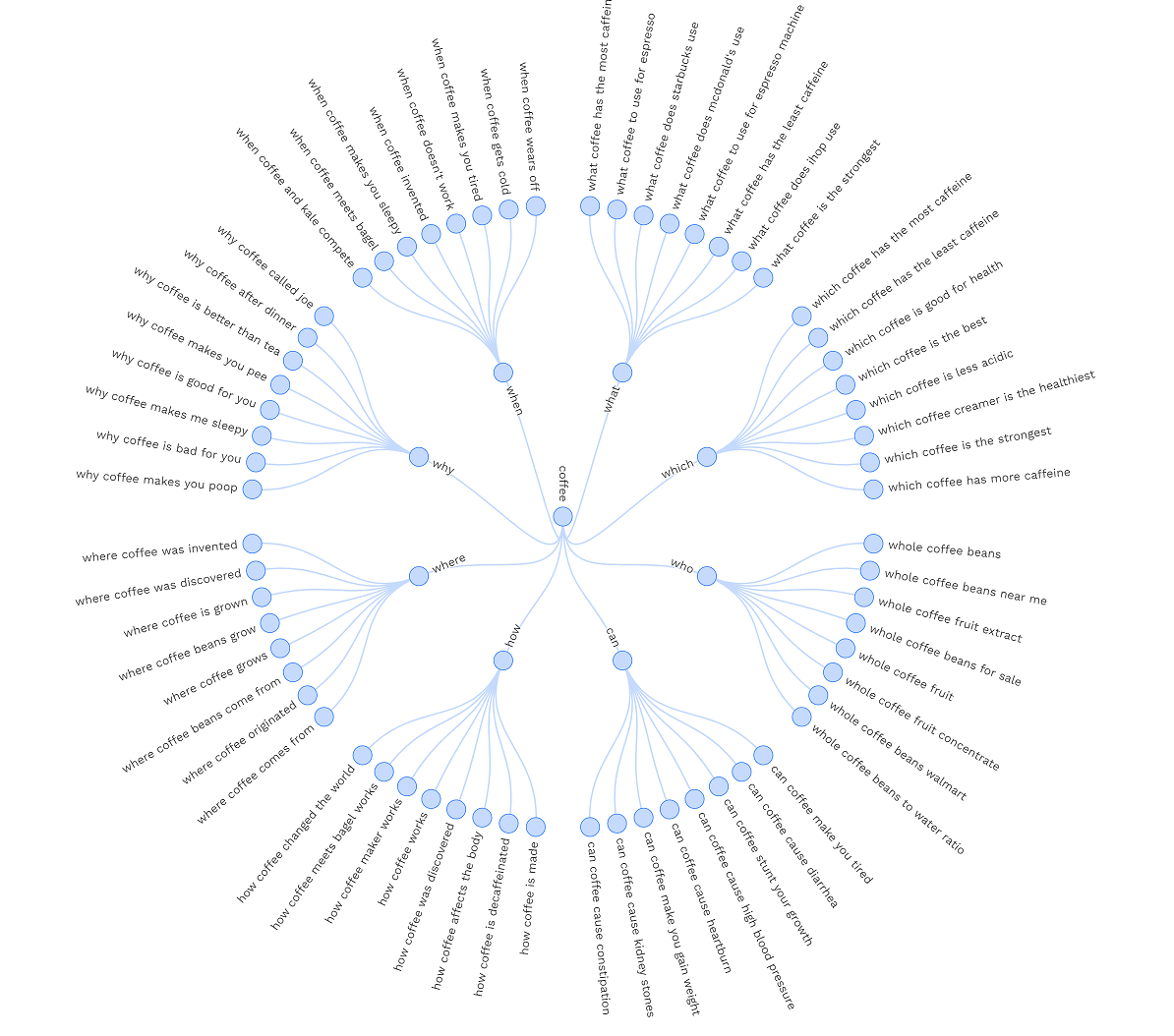 Keyword Generator
Our Keyword Generator search is an advanced auto complete search with dynamic modifiers.
We take the top autocomplete suggestions for your search term (as in the following example)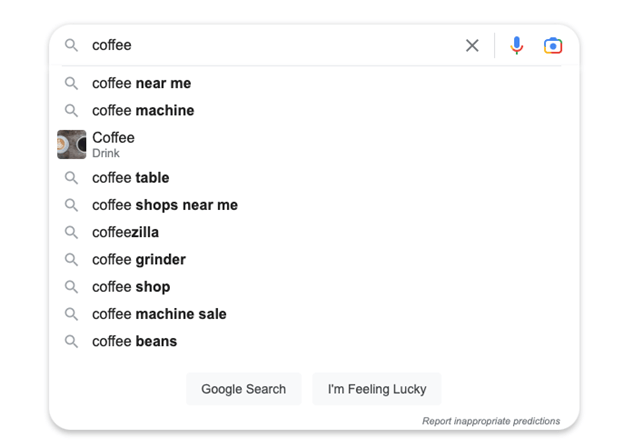 Which we then mine down and get the top autocomplete suggestions for these results to get results that look like this: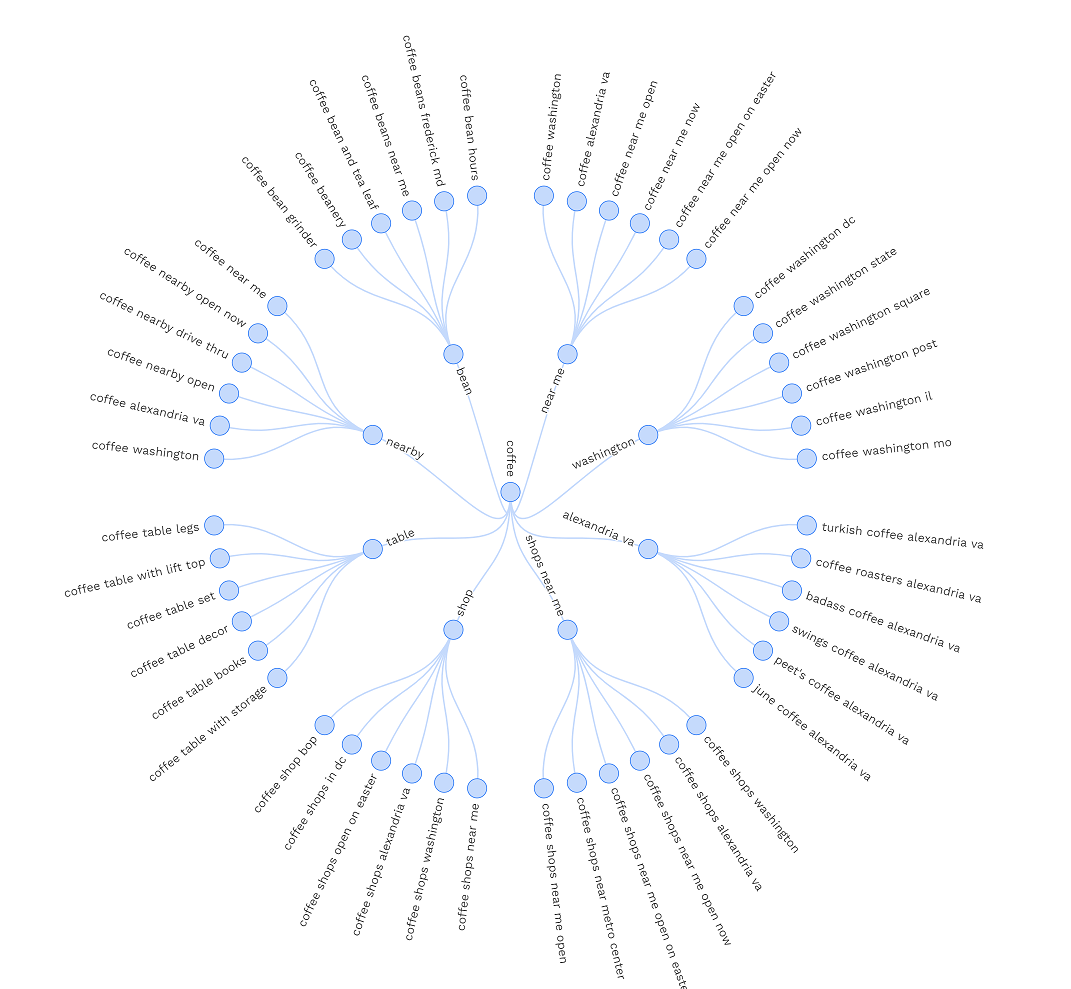 Productivity boosting

tools included

Our searches can generate a huge amount of questions and keywords for you to work with, so to enable you to get the most value out of this data we provide some tools to help.
Search Alerts
Automate discovery of new questions and keywords for any topic with search alerts.
New questions surface continuously through Google and search alerts allow to schedule searches to run automatically for any topic or brand.
When new keywords and questions are found they will be emailed on to you so you never miss an opportunity.
A full history of all your scheduled searches are kept so you can easily see when new questions appear and older ones disappear.
The following video shows how to use Search Alerts
Manage your keywords

with Lists

Keyword Lists allow you to easily curate and share lists of keywords for any topic you like.

Build up lists of keywords around related topics and queries at the touch of a button.

Edit lists to add or remove keywords as well as add keywords of your own.

Lists by default are private to your account, but you can choose to make them shareable with a unique sharing link allowing others (even those without KeywordsPeopleUse accounts) to access your list if you share the link with them.

The following video shows in depth how to use Keywords Lists
Topic Clusters
Powered by the latest generative AI systems, with Topic Clusters you can quickly take the questions and keywords found by an initial search and group them into outline articles to develop a topical cluster.
You can download the cluster data as a CSV, or regenerate the clusters for alternative cluster groups.
Additionally, you can click "Generate Article" below any cluster to use the latest Generative AI algorithms to create an entire article for each cluster topic.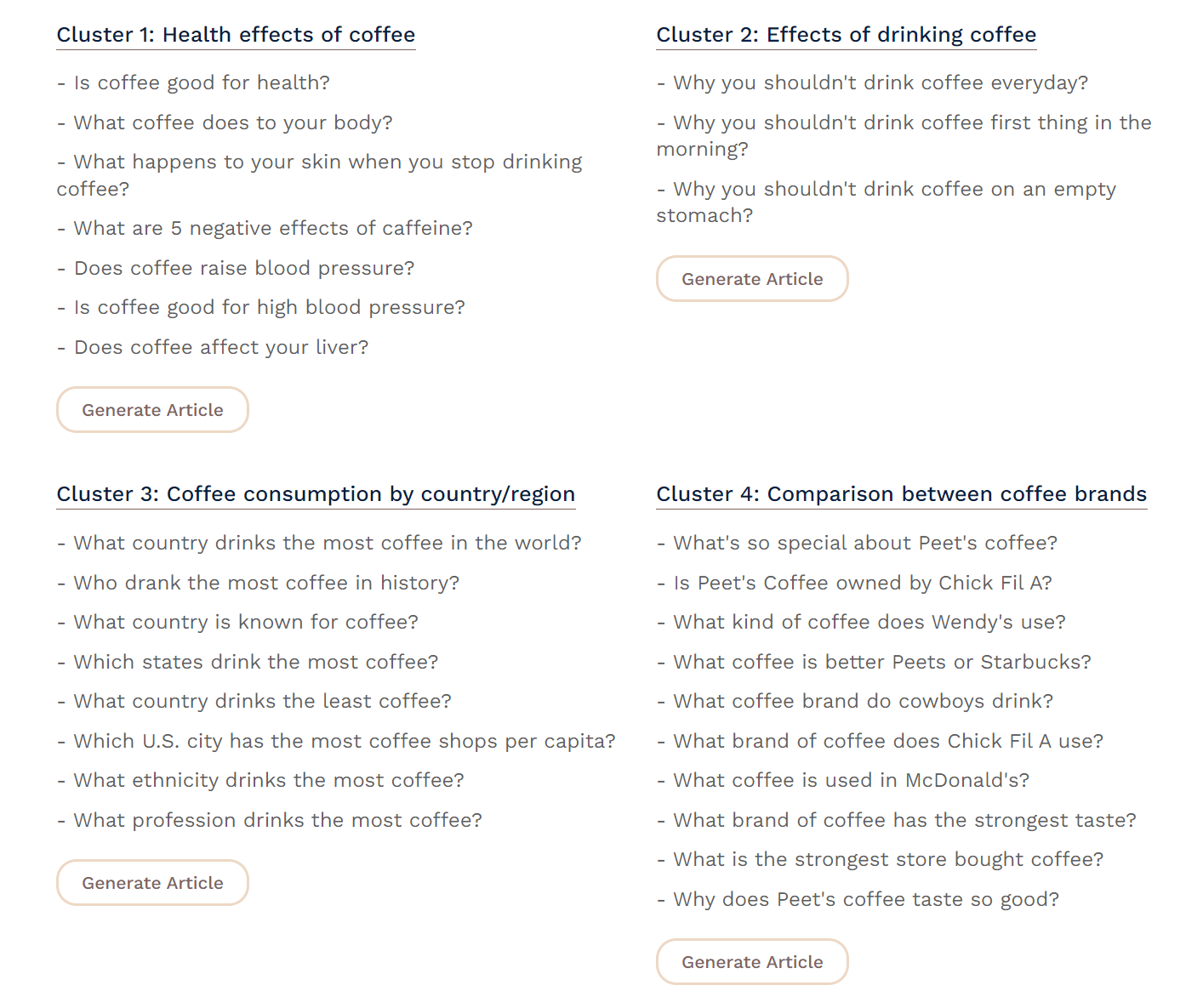 AI Content Generator
Powered by the latest OpenAI language models, you can generate answers to any questions and keywords that our queries surface for you.
You can even generate AI content for keywords you create yourself.
Perfect for generating great content for immediate use or as an initial research and brainstorming content.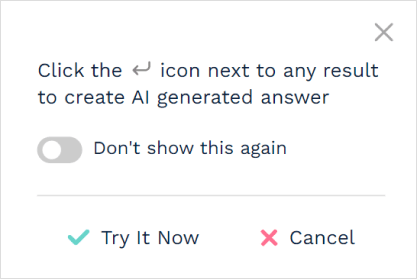 API
Want to build your own automations?
Integrate our functions within your own tools or services?
Then you'll love our API.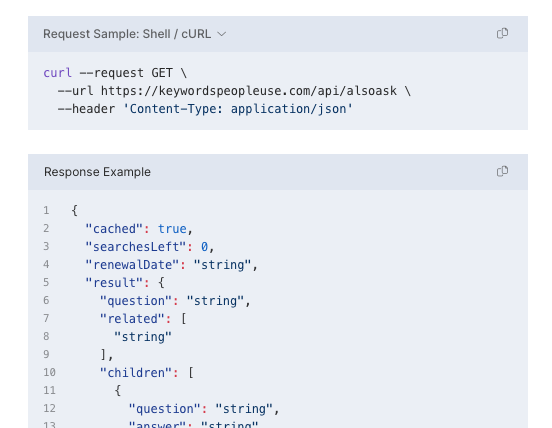 Search History
Every search you make is saved for you in your Search History.
Perfect when researching a topic, you don't need to manually save images and csv files as you explore, just go to Search History when you are done and browse the results at your leisure.
Bulk Search
Want to quickly get results for a large number of search terms? We've got you covered with our bulk search feature.
Get results for up to 1000 keywords in bulk, just upload a csv file and click search.

The results will be available in your Search History

What our customers are saying
What makes our tool
unique?
Real Time Data
Google's results change constantly, new questions and keywords appear for topics all the time, that's why all our queries use live real time data from the search engines meaning you have up to date results at all times. No missing out on emerging trends.
Target countries and languages
Keywords and questions vary hugely between countries and languages, so our tools allow you to specify the country and language for any search your carry out.
Visual results
See the results of your searches in graphical form showing the relationships between keywords. Download and share these beautiful images with clients and colleagues.
Downloadable Results
Download results in either graphical format or as CSV, easy and quick to work on and share.
Save and manage keywords with Lists
Finding keywords is just the start, we also help you collate keywords into curated lists. You can also share lists publicly with other members of your team and external writers.
AI Built-in
Powerful AI built directly into our systems to allow you to ask SEO and Keyword questions directly and to build AI content direct from keywords and keyword lists.
Trusted by SEO, Marketing, PR and Niche Sites experts worldwide
KeywordsPeopleUse is an invaluable part of the SEO toolkit used by people like you around the world. Don't get left behind, try for yourself now.