The solution to discovering
the questions people ask
Get instant insights into what people are searching for and what questions they ask online so you can answer and build trust, authority and your audience
We show you the questions and keywords that your customers and potential site visitors use to search Google and other online resources.
Armed with this knowledge you can plan and build your content safe in the knowledge it will target real queries asked by real people worldwide.
We save you time and money allowing you to get the flywheel of content production moving in the right direction, build your audience faster and generate more revenue.
Why use KeywordsPeopleUse?
Based on real user keyword data
We trust Google with the questions we wouldn't ever ask even those closest to us! We find and collate this data direct from Google so you can understand and answer the real questions people are asking.
Rank higher in search results
Build content that answers the questions that people really ask, no more guesswork!
Save time
The keyword data we produce comes straight from Google based on exact user usage data for individual topic. No more guesswork when searching keywords.
Target your content production
Within seconds you will have all the data you need to build a content production plan around any topic, brand or niche. All targeted at the keywords that will drive real traffic numbers.
Niche research
Find new niches to target and instantly have all the headlines you need to hit to build topical relevance and authority.
Our query types
People also ask
Many search queries in Google give additional "People also ask" results.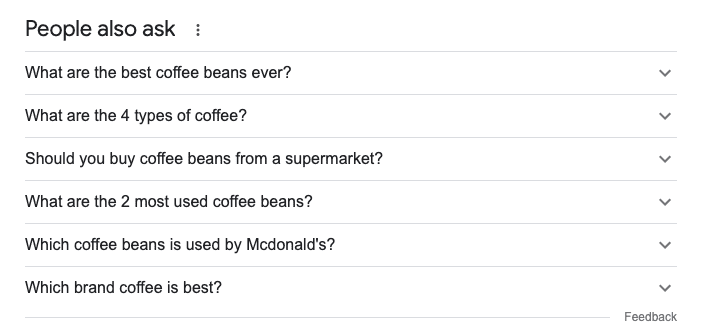 We pull these results and then requery these down a number of levels to produce a topical tree of questions that people ask about your target niche, as the following diagram shows.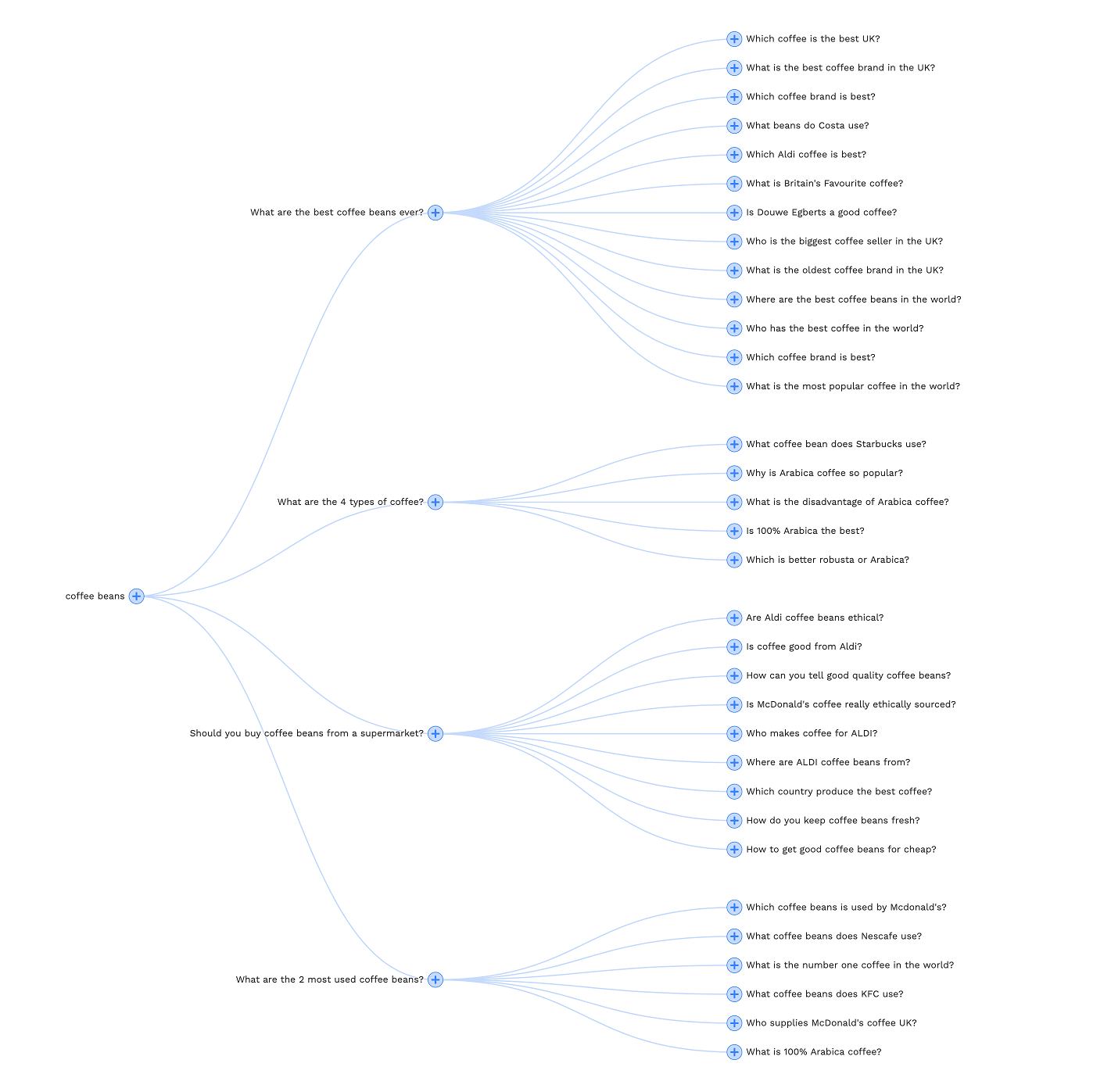 Google Search Auto Complete
As you type a search query into Google it starts to autocomplete the query for you based on popular queries starting with the words and letters you are typing.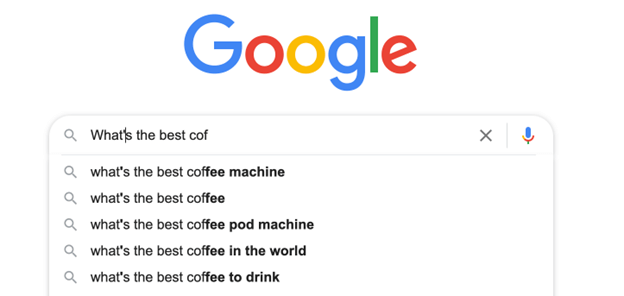 We pull these autocomplete results for your query and add a number of different intent modifiers (like "who", "what", "how" etc) to build a complete overview of the search queries people are using around a keyword or topic.
We show you the results in a rich graphical format so you can easily see the relationships between search terms, as the following diagram shows.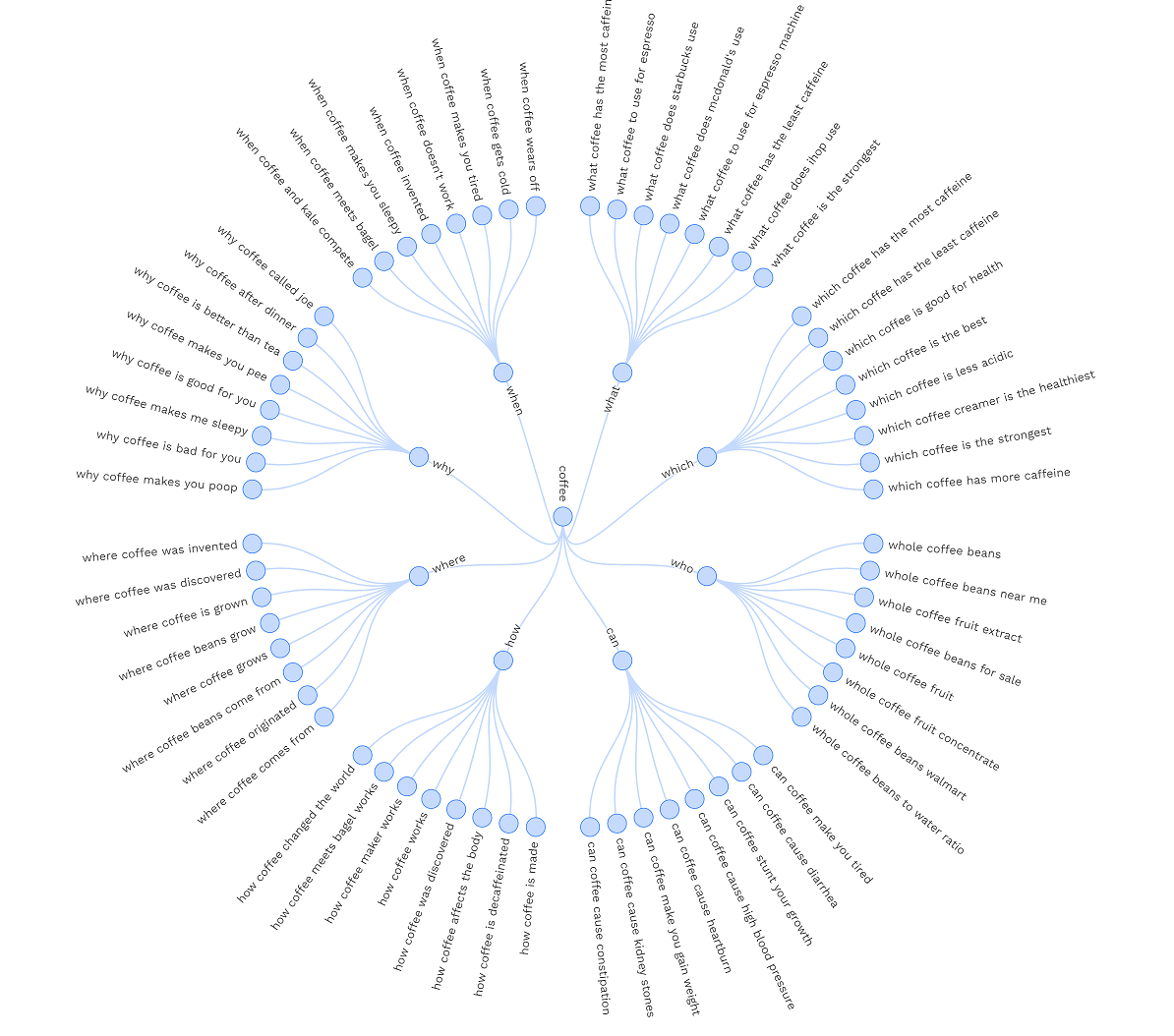 Keyword Discovery
Our Keyword Discovery search is an advanced auto complete search with dynamic modifiers.
We take the top autocomplete suggestions for your search term (as in the following example)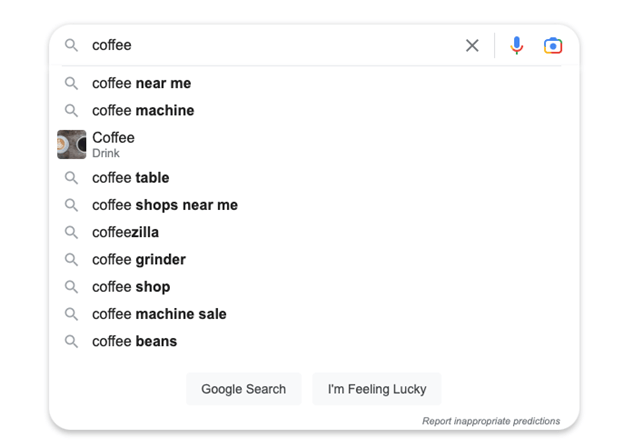 Which we then mine down and get the top autocomplete suggestions for these results to get results that look like this: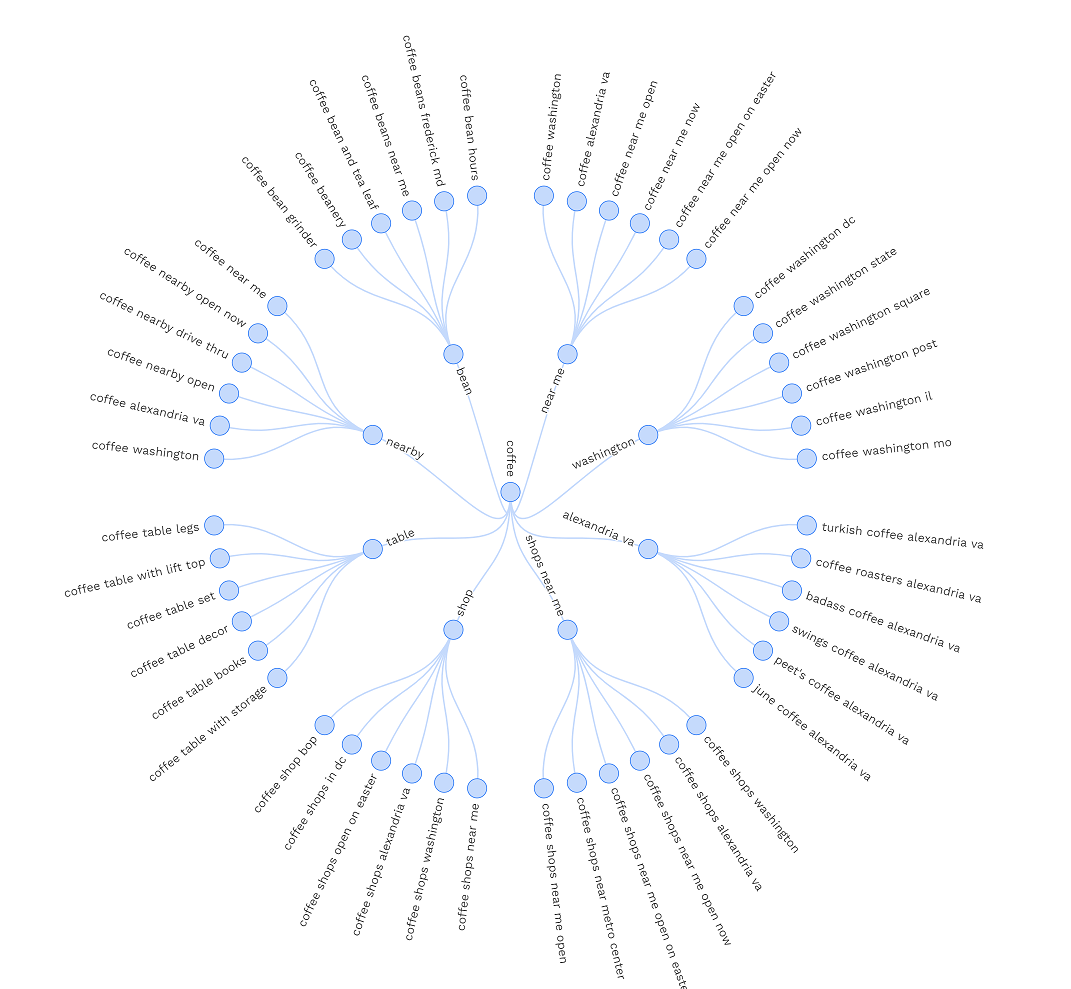 Reddit & Quora
Google isn't the only place that people go to try to find answers to their questions.
The two most popular alternatives are Reddit and Quora.
Our Reddit & Quora search mines both of these websites for the country and language of your choice and pulls out the top questions for your topics, as the example below shows.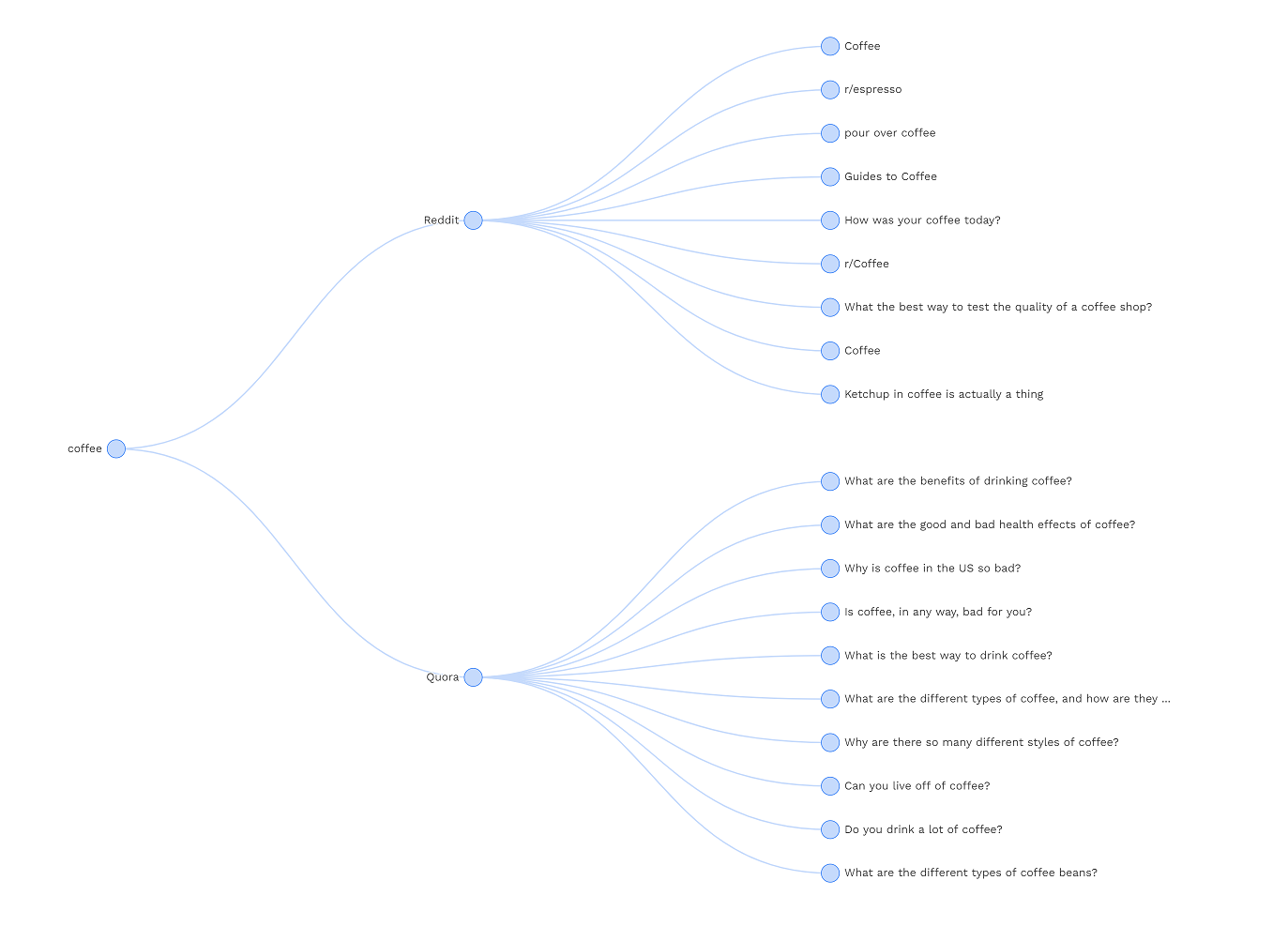 Content Explorer
Our content explorer search starts by searching Google for the topic you are interested in and then visits the top ranking websites and pulls out the questions being answered on these pages, a great indicator of the types of questions that high traffic websites in that niche are answering.
The image below shows an example in action.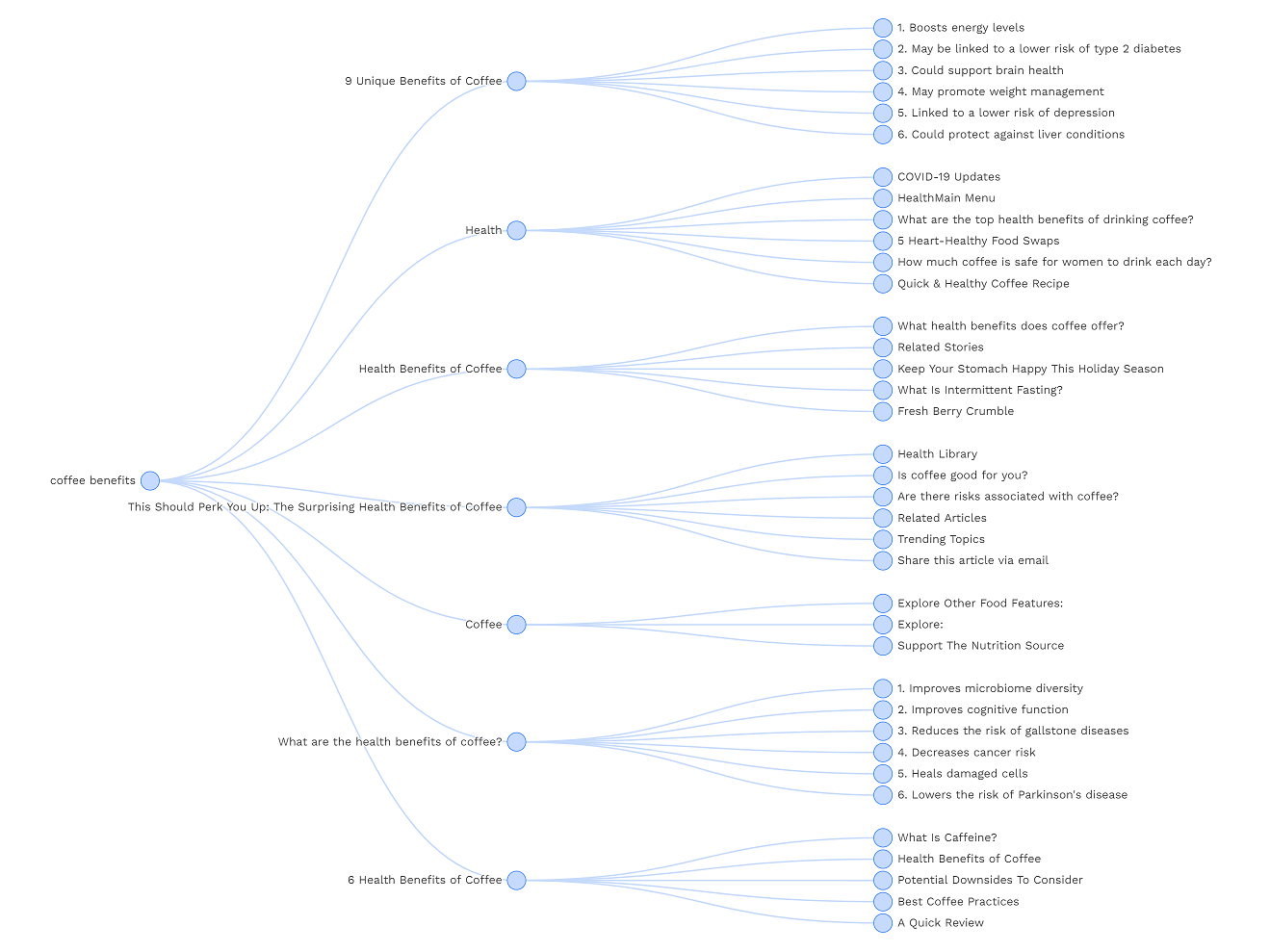 Productivity boosting tools included
Our searches can generate a huge amount of questions and keywords for you to work with, so to enable you to get the most value out of this data we provide some tools to help.
Search Alerts
Automate discovery of new questions and keywords for any topic with search alerts.
New questions surface continuously through Google and search alerts allow to schedule searches to run automatically for any topic or brand.
When new keywords and questions are found they will be emailed on to you so you never miss an opportunity.
A full history of all your scheduled searches are kept so you can easily see when new questions appear and older ones disappear.
The following video shows how to use Search Alerts
Manage your keywords with Lists
Keyword Lists allow you to easily curate and share lists of keywords for any topic you like.
Build up lists of keywords around related topics and queries at the touch of a button.
Edit lists to add or remove keywords as well as add keywords of your own.
Lists by default are private to your account, but you can choose to make them shareable with a unique sharing link allowing others (even those without KeywordsPeopleUse accounts) to access your list if you share the link with them.
The following video shows in depth how to use Keywords Lists
What makes our tool unique?
Real Time Data
Google's results change constantly, new questions and keywords appear for topics all the time, that's why all our queries use live real time data from the search engines meaning you have up to date results at all times. No missing out on emerging trends.
Target countries and languages
Keywords and questions vary hugely between countries and languages, so our tools allow you to specify the country and language for any search your carry out.
Visual results
See the results of your searches in graphical form showing the relationships between keywords. Download and share these beautiful images with clients and colleagues.
Downloadable Results
Download results in either graphical format or as CSV, easy and quick to work on and share.
Save and manage keywords with Lists
Curate and share lists of keywords for any topic you like.