Uncover What People
Are Really Searching For
Take advantage of real-time, data-driven insights from Google autocomplete, visually displayed for the most accurate SEO strategies
Featured on




Discover What People Also Search For
Don't guess what your audience wants to know. Use real-time search data to reveal the most popular questions and searches, guiding your content strategy with precision.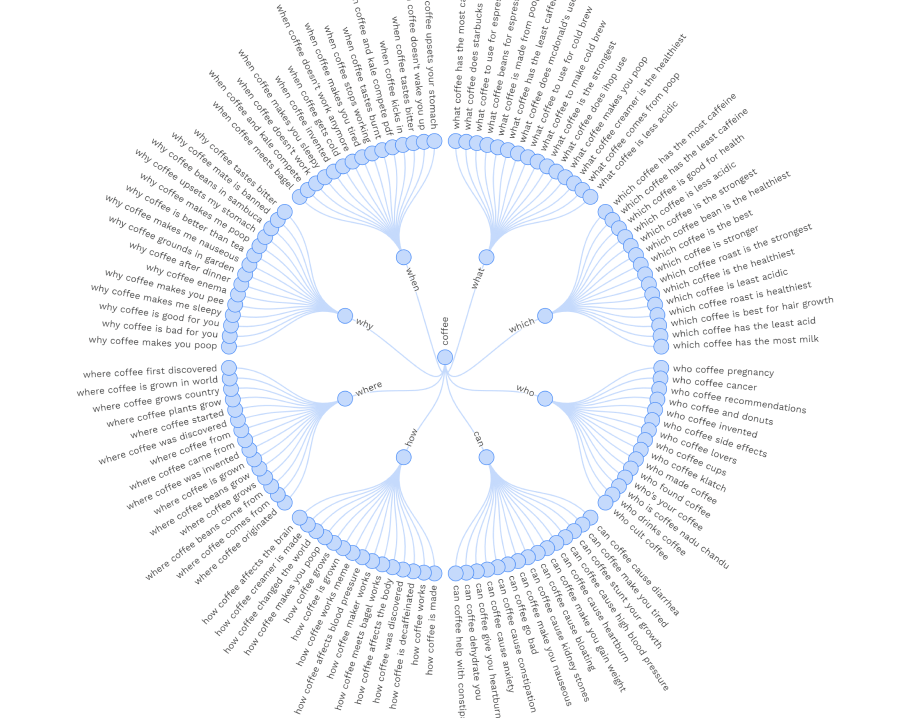 Ignite Your Content Ideas
Struggling to come up with new content ideas? Let our tool inspire you. By revealing what your audience is actively searching for, you can create content that is timely, relevant, and certain to engage.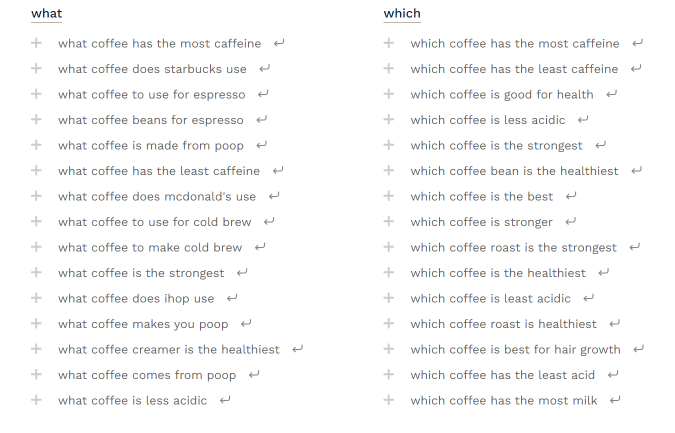 Stay Ahead with Search Alerts
Never miss an emerging trend with our Search Alerts feature. Get real-time notifications when new questions or search queries related to your keywords arise. This way, you're always one step ahead, ready to tailor your content to the latest trends and audience interests.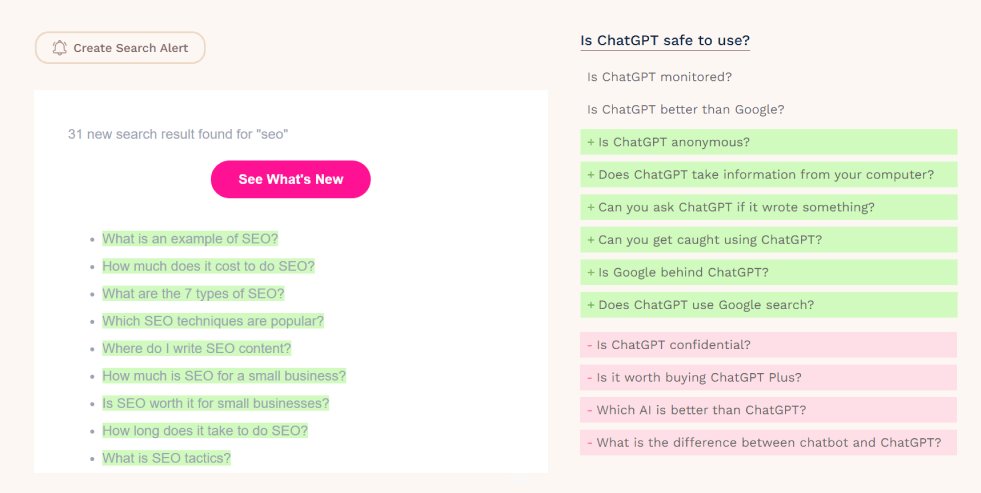 Visually Captivating Analysis
Say goodbye to cumbersome spreadsheets. We offer an intuitive, visual interface that makes data analysis not only easier but more engaging. Whether you're an SEO veteran or a beginner, our tool is designed to be user-friendly, making keyword research accessible to all.
Detailed Insights
Delve deeper than ever before into audience behavior with our keyword research tool. With our detailed insights, you can better understand your audience, tailor your content effectively, and make informed decisions to steer your online presence towards success.
International Data
Our tool provides keyword insights from searches worldwide, allowing you to tailor your content to various regions and languages. With this global perspective, you can effectively connect with diverse audiences and expand your online influence on an international scale.
Features
Google Autocomplete Scraper
Our tool automatically extracts and compiles popular questions from Google autocomplete, ensuring you're always informed about trending search queries. Uncover the exact questions people are searching for, helping you create content that directly addresses their needs and interests.
Keyword Lists
Keep your SEO strategy efficient and streamlined with our Keyword Lists feature. Create, customize, and manage lists of your most valuable keywords, helping you to prioritize your focus and track trends over time.
Exportable Data
Want to take a closer look? You can easily export the data into various formats for deeper analysis or to share with your team.
AI Content Writer
Leverage the power of AI to supercharge your content creation process. Our AI Content Writer feature enables you to generate accurate, engaging answers to queries with a single click. Reduce time spent on drafting and editing, while maintaining a high standard of content.
Bulk Keyword Research
Save valuable time and increase productivity with our Bulk Keyword Research feature. Simply upload a CSV file of keywords, and our tool will do the heavy lifting, scraping Google autocomplete suggestions for all your entries.
Frequently Asked Questions
What is Google Autocomplete and how does it work?

Google Autocomplete is a predictive search feature. As you type in the search bar, it suggests possible search terms based on popular queries, your search history, and your location. It's designed to expedite and streamline your search process.
What is People Also Search for?

"People Also Search For" is a feature on Google's search engine results page (SERP). It presents related search queries to help users refine their search or explore associated topics, appearing often when a user navigates back to the SERP.
What are related searches on Google?

Related searches on Google are relevant search terms to your original query suggested by Google. They appear at the bottom of the SERP and include variants of your search term, related topics, and popular searches linked to your term.
Other Tools